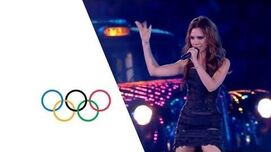 On 12th August 2012 The Spice Girls reunited as a quintet for the last time for the Closing Ceremony for The London 2012 Summer Olympics and performed both the songs Wannabe (song) and Spice Up Your Life (song) and performed them on top of modified Black London Taxi Cabs. Despite rumours however, Geri Halliwell didn't wear her trademark Union Jack dress. This was the last Spice Girls concert to feature Victoria Beckham and Mel C.
The Prime Minister David Cameron and the London Mayor Boris Johnson were also seen dancing.
Ad blocker interference detected!
Wikia is a free-to-use site that makes money from advertising. We have a modified experience for viewers using ad blockers

Wikia is not accessible if you've made further modifications. Remove the custom ad blocker rule(s) and the page will load as expected.