2 Become 1
is a music video by the
Spice Girls
.
Music Video
Edit
It features the five girls in Times Square in New York City with fast moving cars appearing around multi-coloured lights, appearing in various places around the city, either alone, with one other member, or as a quintet. Sometimes the closing scene would not be shown on television due to the song fading out to an instrumental which lasts for forty seconds. The video is intercut with scenes of lovers experiencing moments of togetherness and closes with a deer wandering the streets, such a scene, according to the group's first official book Girl Power!, gave them a running gag all throughout the shoot:
"Whenever anyone made a mistake it was, 'Oh deer.'"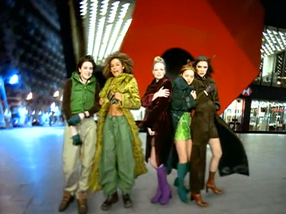 Development
Edit
The music video was directed by Big TV!, and the photography was in charge of the cinematographer Stephen Keith-Roach, who also worked in other music videos like Jamiroquai's Virtual Insanity and U2's Discotheque.
The video was shot in various backgrounds which either one of the girls were singing as a solo or shots together when they all form a piece. In Girl Power!, Victoria comments:
"This video was my favourite. My coat was wicked in it and it was really different to the other videos – shot entirely in the studio with high technology and loads of effects. It was really weird having to sing passionately into the camera –I was feeling a right mug in front of all those people singing 'wanna make love to you baby'."