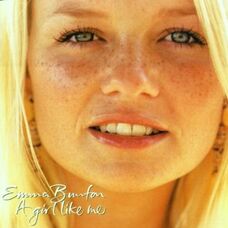 A Girl Like Me is Emma Bunton's debut solo album that was released on April 16, 2001 by Virgin Records.
Tracklisting
Edit
A World Without You
High On Love
A Girl Like Me
Spell It O.U.T
Been There, Done That
Better Be Careful
She Was A Friend of Mine
What I Am (with Tin Tin Out)
Chart Performance
Edit
"A Girl Like Me" debuted and peaked at #4 on the U.K. Albums chart, selling 21,500 copies during its frst week, but quickly fell off the chart.
Despite that, it was certified Gold by the BPI for shipments in excess of 100,000 copies.
Critical Reception
Edit
"A Girl Like Me" received mixed to positive reviews from music critics.
Stewart Mason of AllMusic felt that Emma's singing voice lacked depth but that it worked well with the well-crafted and addicting pop songs, concluding that "A Girl Like Me isn't an album for the ages, but it's better than 'not bad."
Timothy Park of NME said that there were great tracks and Emma performs them adequately but felt the album lacked ambition or honesty, concluding that "A Girl Like Me, like Emma, is very sweet but, like Emma also, it has no balls."
Erik Missio of CHARTattack said he saw promise in the album, but felt disappointed by its attempts to resemble the Spice Girls' sound.
Stephen Robinson of Hot Press criticized the tracks for being overly sweet and borrowing from other genres, but being unoriginal with them, calling it "another album to chuck aboard the pop blandwagon."
Ad blocker interference detected!
Wikia is a free-to-use site that makes money from advertising. We have a modified experience for viewers using ad blockers

Wikia is not accessible if you've made further modifications. Remove the custom ad blocker rule(s) and the page will load as expected.