Rowneybury House, otherwise known as Beckingham Palace, is a Grade II listed building in the United Kingdom owned by Posh and Becks (David Beckham and wife Victoria Beckham). The name "Beckingham Palace", commonly used by the media in reference to the home, is a portmanteau of Beckham and Buckingham Palace.
The Beckhams bought the 1930s Georgian style house for £2.5 million in October 1999, soon after their wedding. The house is located within of land, in Sawbridgeworth, Hertfordshire. Previously, it was a council-owned children's home. The Beckhams employ ex-SAS guards for security.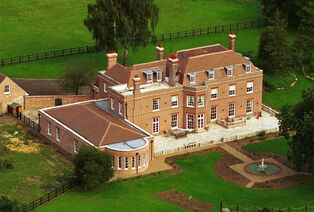 Ad blocker interference detected!
Wikia is a free-to-use site that makes money from advertising. We have a modified experience for viewers using ad blockers

Wikia is not accessible if you've made further modifications. Remove the custom ad blocker rule(s) and the page will load as expected.