Bumper to Bumper is a song by the Spice Girls.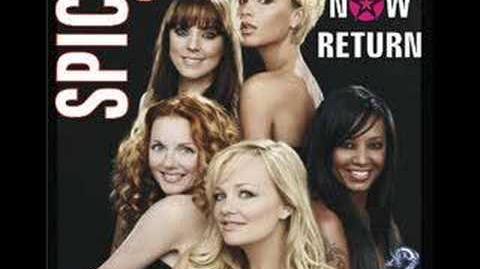 Background
Edit
Bumper to Bumper came as a B-side to the single of Wannabe of the US CD/European CD edition as a single edit with length of 2:52 and on the UK CD1/Australian CD/Brazilian CD/Japanese CD with a length of 2:52 as radio edit as well as the normal version with length of 3:43. "Bumper to Bumper" was only featured on the single for "Wannabe". "Bumper to Bumper" was not included on any of The Spice Girls albums.
Development
Edit
The song was co-written by The Spice Girls with Absolute production team and Cathy Dennis.
(Emma & Geri): I'll beep my horn for you (Bumper to bumper)
(Emma & Geri): Give way I'm comin' through
I'll beep my horn for you (Bumper to bumper)
(Emma & Geri): Give way I'm comin' through

(Mel B & Emma):
Driving through the city
Dirty, nitty gritty
Looking for a place to go
Girls are feeling risky
Feelin' kinda frisky
Come on baby let me know

Pull over, pull over,
You're driving me reckless
Over the limit,
Alright you're gonna get this

(Victoria & Emma): Bumper to bumper, bumper to bumper
(Mel B, Melanie C & Geri): I want to drive your body
(Melanie C & Emma): (All night)
(Mel B, Melanie C & Geri): I want a back seat lover
(Emma, Melanie C & Geri): (All right)

You know that
I'll beep my heart for you (Bumper to bumper)
Give way I'm coming through (Bumper to bumper)
I'll beep my heart for you (Bumper to bumper)
Can't take my eyes off you (Bumper to bumper)

(Mel B & Emma): Looking but not stoppin'
Only window shoppin'
Less you've got some goods to show
Don't tell us that were dirty
Only being flirty
Tops off and down and here we go

Pull over, pull over
You're driving me reckless
Over the limit
Alright you're gonna get this

(Victoria & Emma): Bumper to bumper, bumper to bumper
(Mel B, Melanie C & Geri): I want to drive your body
(Melanie C & Emma): (All night)
(Mel B, Melanie C & Geri): I want a back seat lover
(Emma, Melanie C & Geri): (All right)

You know that
I'll beep my heart for you (Bumper to bumper)
Give way I'm comin' through (Bumper to bumper)
I'll beep my heart for you (Bumper to bumper)
Can't take my eyes off you (Bumper to bumper)

(Emma & Geri): Lazy hazy summer days, lazy hazy summer days (Bump Bump!)
(Emma & Geri): Lazy hazy summer days, lazy hazy summer days (Bumper to bumper)
(Emma, Melanie C & Victoria): Driving into the sunshine, driving into the sunshine (Bump bump!)
(Emma & Geri): Lazy hazy summer days, lazy hazy summer days
(Emma, Melanie C & Victoria): Driving into the sunshine, driving into the sunshine, driving into the sunshine (Ahh)

You know that
I'll beep my heart for you (Bumper to bumper)
Give way I'm coming through (Bumper to bumper)
I'll beep my heart for you (Bumper to bumper)
Can't take my eyes off you
(Mel B & Geri) (Bumper to bumper)

I'll beep my heart for you (Bumper to bumper)
Give way I'm coming through (Bumper to bumper)
I'll beep my heart for you (Bumper to bumper)
Can't take my eyes off you (Bumper to bumper)
Key