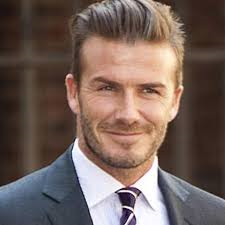 David Robert Joseph Beckham, OBE (born 2 May 1975) is an English footballer who currently plays in midfield for Major League Soccer club Los Angeles Galaxy. He is also an established member of the England national team and a former Manchester United Player who was coached by Sir Alex Ferguson).
Biography
Edit
Meeting Victoria
Edit
Before meeting Victoria Adams, he had seen the Spice Girls' music video for Say You'll Be There, he points to Victoria saying:
"That's the girl for me and I'm going to get her! She's my idea of perfection. I knew that if she wanted me, we would be together forever." - The British's Sun Newspaper (March 1997)
At a Manchester United v Sheffield match, David at the time requested to meet the Spice Girls, which Victoria came. Then they decided to start dating which raised a lot of media attention.
Posh and Becks
Posh and Becks
Edit
On January 24, 1998, David, 23, proposes to Victoria, 24, at Chesire's Rookery Hall Hotel. He proposes to her with a $65,000 (£43,000) three-plus-carat ring, which upon asking for her hand, Victoria gives him an $80,000 (£53,000) three-tiered band of 96 diamonds engagement ring.
During a Spiceworld tour concert promoting album Spiceworld on May 31, 1998, it was announed that Victoria was pregnant. On March 4, 1999, Victoria gives birth to 7-lb baby boy, Brooklyn Joseph, which David and her commented on commented hours after the birth to a group of reporters in Westminister, London:
"A baby is something we have always wanted." - Victoria
"Victoria is sitting up drinking champagne, and she has spoken to the other girls." - David
The name of Brooklyn was given as it was the New York borough in which Victoria found out that she was pregnant.
Becoming Beckhams Victoria and David were married on July 4, 1999, at Bishop of Cork, William Paul Colton, at Luttrellstown Castle, Ireland, with the whole wedding costing at $800,000 (£424,000) inviting 236 guests. An exclusive coverage was sold to British Tabloid OK! at $1.5 Million (£980,000).
Victoria dresses in a one-of-a-kind Vera Wang dress and wearing a crown upon her head. Both Victoria and David were mounted on gold-plated, red-velvet thrones, while their four-year-old son Brooklyn acted as their ring bearer.
Main Article: Cruz Beckham
On February 20, 2005, their third son Cruz Beckham is born in Madrid, Spain, weighing at 7-lbs. After giving a caesarian, Victoria and David said they were "delighted". Death Threat In November 2002, five people were arrested after another plot for her kidnap was infiltrated by a tabloid newspaper. Videotapes were recorded showing that they were to ambush them outside their home and to sedate the family with chloroform, and have them pay a ransom of $7.5 million (£5 million). The Beckhams decided to increase security around their $13 million 24-acre Hertfordshire estate (also referred as "Buckingham Palace"). All charges were dropped after a witness was deemed unreliable.
Tabloid Scandal
Edit
In April 2004, allegations surfaced that David Beckham had had a brief affair with a former personal assistant, Rebecca Loos. The affair had apparently taken place when David had moved to Madrid, although he denied all the allegations. They respond to all the bad media by posing for photos, while holding hands.
Los Angeles Galaxy
Edit
David signs a five-year deal with the Major League Football/Soccer's Los Angeles Galaxy, so the family moves to L.A.. While going to Spain to play for Madrid, Victoria prepares everything in L.A., ready for the family to move in.
Return of the Spice Girls
Edit
David purchases each member of the Spice Girls a diamond bracelet., and appears at every Spice Girls concert, except one which he missed to see Ricky Hatten fight
External Links
Edit
http://www.davidbeckham.com/ - David Beckham's Official Website