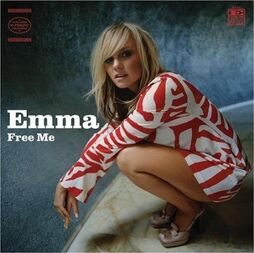 Free Me is Emma Bunton's second solo album that was released on February 9, 2004 on Polydor Records.
It was released via 19 Recordings (which is a division of 19 Management, the company owned by Simon Fuller).
Album Composition
Edit
The album was largely produced by Mike Peden and Yak Bondy, who have produced tracks for S Club 7 and Lucie Silvas, to name a few.
Other contributions on the album courtesy of Cathy Dennis, Henry Binns, and Puerto Rican singer Luis Fonsi.
According to Emma about the inspiration behind the album:
"I've been listening to Motown since I was about five, and just loving it, being very passionate about the fact how it was all done live, and I thought, 'Hold on, I always talk about the fact I love '60s and Motown', so I thought I'd take elements of it, bits of it, and put it into my album, so that's exactly what I did."
However, Emma's songs on this album mainly started life as a simple scribble. She said:
"I have a little book beside my bed where I put all my ideas for songs and stuff. It's kind of weird, 'cuz usually when I'm having a dream, I'll wake up, and I'll write something down, then I'll look at it again and think, God, what was I dreaming about?"
Tracklisting
Edit
Tomorrow
Breathing
No Sign Of Life
Who The Hell Are You
Lay Your Love On Me
Amazing (featuring Luis Fonsi)
You Are
Something So Beautiful
Chart Performance
Edit
"Free Me" peaked at #7 on the U.K. Albums chart, staying on the chart for over 12 weeks, sold over 141,712 copies and was certified Gold by the BPI.
Critical Reception
Edit
The album was acclaimed by critics for its catchy and fun use of sounds from the Motown and the 1960s era.
The BBC says the album is "light and frothy, like a good cappuccino, but this time it's with the sugar taken out".
Stephen Thomas Erlewine of AllMusic gave a positive review saying, "This music is stylish without being flashy, thanks in large part to the charmingly tuneful, sturdy songs (all but one bearing a writing credit from Emma). While Bunton may still have a small, sweet voice, she's developed a stronger presence on record, giving this album not just a face, but a fetching persona that's hard to resist".
Ad blocker interference detected!
Wikia is a free-to-use site that makes money from advertising. We have a modified experience for viewers using ad blockers

Wikia is not accessible if you've made further modifications. Remove the custom ad blocker rule(s) and the page will load as expected.