Get Fit With Mel B
Developer(s)
Lightning Fish Studios
Publisher(s)
Deep Silver
Platform(s)
PlayStation 2, PlayStation 3, PlayStation Portable, Nintendo DS, Wii, Xbox 360
Release date(s)

September 30, 2010

PS3

NA September 30, 2010
EU October 7, 2010

Xbox 360DS

/

PS2

/

PSP

/

Wii

Genre(s)
Fitness game
Mode(s)
Single-player
Rating(s)
Media
Blu-ray Disc, DVD, Wii Optical Disc, UMD
Get Fit With Mel B is a video game under development by UK developer Lightning Fish Studios.
Background
Edit
It will be the first game to make use of the Xbox 360's Kinect and the Sony PlayStation 3's PlayStation Move. It will also appear on the Wii. It will be timed-exclusive to PlayStation 3. The game is licensed by Fitness First.
In June 2010, a press release was announced by Black Bean:
Are you ready for an unparalleled interactive fitness software? Take the official license and the knowledge of Fitness First, the world's largest gym chain, then add a complete and comprehensive nutritional program, 6 types of aerobics disciplines with more than 100 tailored exercises, a brand new proprietary technology and, above all, Mel B, the top worldwide celebrity to train with!
Just shuffle these elements and you'll have "Get Fit With Mel B". This is not the umpteenth fitness title, but the ultimate and long-life experience that will entertain your mind and your body.
On the official website, a brief answer of what the game is about was given:
Get Fit with Mel B is a complete and innovative workout program designed in collaboration with Mel B and Fitness First that will allow you to take physical exercise within the comfort of your own home. A personalised program of exercises in which you can insert all of your desired goals, the huge experience and precious advice of Mel B, and a wide variety of exercises are the fundamental characteristics of Get Fit with Mel B: the best fitness experience in the world!
Promotion
Edit
A trailer was release in June 2010, showing snippets of gameplay and an introduction to what the game is about.
A picture of what seems to be where she will be doing her signings was shown via Twitter on September 2, 2010.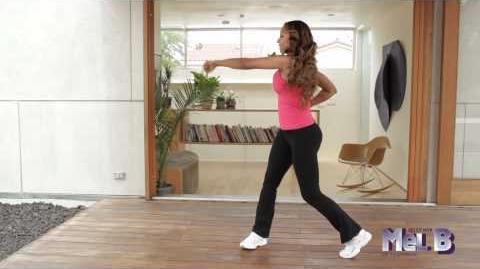 Release dates
Edit
On 12:47 AM (GMT) September 2nd, 2010, Melanie tweeted about the confirmation of the release date and formats the game will be released:
"Get fit with mel b" video game is released sept 17th!!!! It's wii playstation 360,yipeee"
However, it was only later that it was revealed that the first release date was pushed to September 28, 2010 (revealed on the game's website) in North America, and pushed back even more to currently an unknown date.
The game is essentally a Fitness game, with Melanie Brown as the player's fitness coach. She will give real-time advice and feedback on the current going-ons of the exercises the players are doing, some of which are dance fit, cardio, step, pump and tone and kickboxing. And like her fitness DVD, Mel B Totally Fit, she'll be giving personal nutritional meals fit to the player's fitness workout. The video game is also compatible with other extensive fitness accessories such as the fitball, the step and the resistance band.
A trailer was released which featured some gameplay from the use of "Playstation Eye and Move". From the help from her assistant "Hannah", the assitant follows different exercises that are done on screen. Exercises are done side-by-side with Mel B on screen with Mel B on the left and with the use of the camera technology, the player of the left.
A timer is situated on the top left of the screen of how long the exercises will be. There also seems to be a target of how many of the exercise moves on Mel B's side on the screen, while the player has what seems to be a bar of target and how many exercise moves they have successfully done.
The game also has online capabilities to connect to FaceBook to update friends on the progress made on the game.
External Links
Edit
http://www.getfitwithmelb.com - Get Fit With Mel B's Official Website.
Ad blocker interference detected!
Wikia is a free-to-use site that makes money from advertising. We have a modified experience for viewers using ad blockers

Wikia is not accessible if you've made further modifications. Remove the custom ad blocker rule(s) and the page will load as expected.