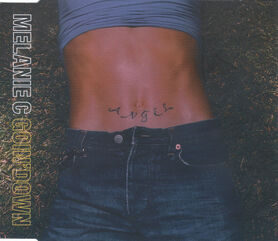 Goin' Down is the lead single from Melanie C.'s debut album "Northern Star."
It was written by Melanie C., Julian Gallagher & Richard Stannard and produced by Marius De Vries.
The single was released on September 27, 1999.
Chart Performance
Edit
"Goin' Down" peaked at #4 on the U.K. Singles chart, selling 92,645 copies in the U.K. and 300,000 copies worldwide.
It also charted in the Netherlands, Australia and Scotland.
Music Video
Edit
The music video for "Goin' Down" was shot in Los Angeles, California in July of 1999.
The video sees Melanie C. with a short, blonde, spikey crop hairstyle and is seen dancing & jumping intensely with a microphone wearing a plaid skirt.
There are scenes of people dancing in a big club-like warehouse with policeman driving outside as they are seen trying to get in.
Melanie is in the club throughout the whole video with wind and some water vapor being sprayed towards her in slow motion. Joc is shown driving an antique Pontiac that has a Cadillac label on the side.
The music video was banned by some music television stations due to its violent content and offensive language.
How come I didn't see
You were making fun of me
How dare you change the rules
You made me look a fool

Well, now you're gonna see
The last laugh's not on on me
What am I gonna do
To get my revenge on you?

You're goin' down
Goin' down

Was it just another lie?
Or did I just breathe a sigh?
What else can I do?
I was so into you

With all this bad luck I've had
My karma must be bad
You've played your little games
Oh what a shame

You're goin' down
Goin' down
Goin' down

I'm singing it loud
And I don't care
I'm singing it proud everywhere

I feel no remorse
My life is back on course
From this little hitch
I have become a super-bitch

But don't be afraid
By that confession I've made
I am not a whore
I have gone hardcore

You're goin' down
Goin' down
Goin' down
Goin' down

I'm singing it loud
And I don't care
I'm singing it proud everywhere
I'm singing it loud
And I don't care
I'm singing it proud everywhere

Ha, ha, ha

You're goin' down
Goin' down
You're goin' down
Goin' down

Ha, yeah