Goodbye
is a music video by the
Spice Girls
.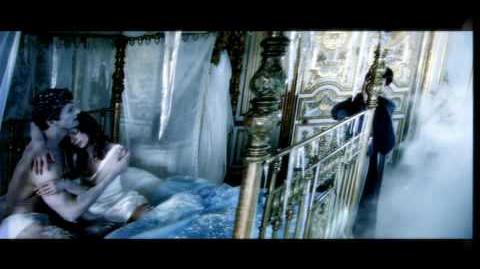 Music video
Edit
It opens with each of the girls in four different black Rolls-Royces, 1950's ZILs (or Packards) and Cadillacs and white wolves running.
They arrive at a castle and walk up the stairs arm-in-arm. When they enter there are frozen couples that the girls observe. The video also shows shots of each girl in a different setting with falling objects and then together as a group. The video ends with the ice melting off the people and they come back to life. Then it shows the shot of the girls entering in reverse to look like they are leaving. Victoria and Melanie B were visibly pregnant in the video.
Development
Edit
The video was filmed at Mentmore Towers in Mentmore, Buckinghamshire on 1 and 2 November 1998. The video was directed by Howard Greenhalgh.
Ad blocker interference detected!
Wikia is a free-to-use site that makes money from advertising. We have a modified experience for viewers using ad blockers

Wikia is not accessible if you've made further modifications. Remove the custom ad blocker rule(s) and the page will load as expected.