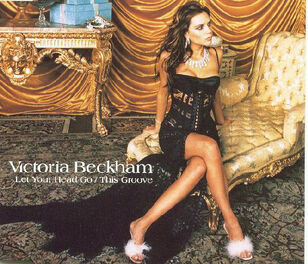 Let Your Head Go is a song by Victoria Beckham that was supposed to be featured on her unreleased sophomore album.
The song was released as a double A-side single along with the song "This Groove" on December 29, 2003 by Telestar Records. In 2004, it was featured on the video album "The Real Beckhams."
Song Background
Edit
In 2002, Victoria signed a contract with Telstar Records and 19 Management worth £1.5 million. She then began recording a pop-influenced album "Open Your Eyes" which yielded the single "Let Your Head Go", but she allegedly chose not to release it after being disappointed with the results.
Instead of pop music, Victoria wanted a more urban sound and worked with urban producer Damon Dash to work on the R&B and hip hop influenced album "Come Together."
A Dash-produced track "It's That Simple" featuring M.O.P. premiered on radio stations in July 2003, generating mixed reviews.
Victoria's first single with Telstar, "Let Your Head Go"/"This Groove", was released in the UK on December 29, 2003, following heavy promotion and many TV appearances across the Christmas period.
This double A-side lifted "Let Your Head Go" from Victoria's earlier pop-inspired work with "This Groove" one of her hip hop and R&B songs and remains her last single release to date.
Outside of the UK, Damon Dash had plans for Beckham in the US, including a potential release of "Let Your Head Go / This Groove" under the name of "Posh Spice Victoria Beckham". The release was proposed for sometime between March to May 2004, but never eventuated.
With the UK media describing her solo music career a failure combined with a rumoured fall-out between Dash and Fuller, Victoria's hip hop album "Come Together" was not released.
Victoria was dismissed from Telstar when the company became bankrupt and she gave up music to focus her fashion career.
Chart Performance
Edit
"Let Yourself Go" and "This Groove" peaked at #3 on the U.K. Singles chart, charting for only 8 weeks, selling 68,656 copies.
Critical Reception
Edit
Hollywood.com commented that "swansong "Let Your Head Go" restored a bit of dignity".
Music Video
Edit
A music video for "Let Your Head Go" was released in promotion of the song.
The video features Victoria first tearing the clothes in her dressing room and appearing to go crazy (a reference to Joan Crawford in the film "Mommie Dearest").
She is then featured in two dream sequences, once as fragile in the wake of this "breakdown" and is being photographed heavily by paparazzi as she is escorted by psychologists and once again in the same outfit being ignored by paparazzi, signaling that she is no longer relevant.
Victoria wakes from the nightmare and is seen attempting to grab from a box a cross with the letters "OBE" in neon lights.
She is then seen having hair and makeup done and posing in the mirror (including her famous point gesture). She is seen on a throne, giving orders and watching dancers, as she plays with a crown.
Victoria walks between the dancers, sets the crown on the floor, walks back to the throne, and the abbreviation "VB" is seen, with her fingers making the letter V.
Robert Compsey from Digital Spy noted that the video "proved she can laugh at herself".
Ad blocker interference detected!
Wikia is a free-to-use site that makes money from advertising. We have a modified experience for viewers using ad blockers

Wikia is not accessible if you've made further modifications. Remove the custom ad blocker rule(s) and the page will load as expected.