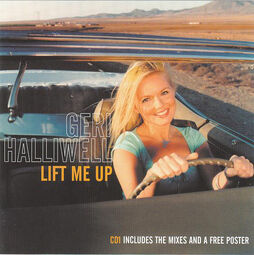 Lift Me Up is the third single released from Geri Halliwell's debut album "Schizophonic.
The song was written by Geri Halliwell, Paul Wilson, Andy Watkins & Tracey Ackerman and produced by Absolute.
It was released on November 1, 1999.
Chart Performance
Edit
"Lift Me Up" topped the U.K. Singles chart in November of 1999 and was certified Silver by the BPI with sales of 340,000. It sold 140,000 copies during its first week.
During that same time, Emma Bunton's debut single "What I Am" (featuring Tin Tin Out) was released. Geri criticised record company executives for allegedly exploiting fans by encouraging the head-to-head race.
The song also charted in Australia, Brazil, Canada, the Netherlands, Europe, Finland, Germany, Italy, Ireland, Sweden and Malaysia.
Promotion
Edit
To help promote the single, Geri performed the song on "Top of the Pops", "Pepsi Chart", "Musica Si" and "National Lottery".
Music Video
Edit
The music video was directed by Howard Greenhalgh and filmed in October of 1999 in Málaga, Spain.
Watch the first light
Kiss the new world
It's a wonder
Baby, like you and I
All the colours of the rainbow
Going somewhere
Baby, like you and I

It's gonna be alright
But when my sky clouds over

(Lift me up)
When the day is over
(Take me up)
When the sun is going down
(Show me love)
And I'll be your angel now

(Lift me up)
When the lights are fading
(Talk me down)
When I'm flying way up high
(Show me love)
And I'll be your angel for life
Your angel for life

Like the seasons ever changing
Everlasting, baby
Like you and I
It's gonna be alright
But when my sky clouds over

(Lift me up)
When the day is over
(Take me up)
When the sun is going down
(Show me love)
And I'll be your angel now

(Lift me up)
When the lights are fading
(Talk me down)
When I'm flying way up high
(Show me love)
And I'll be your angel for life
Your angel for life

No matter where we run
Who knows what we will become
Is there a world we know
Where life will naturally

(Lift me up)
When the day is over
(Take me up)
When the sun is going down
(Show me love)
And I'll be your angel now

(Lift me up)
When the lights are fading
(Talk me down)
When I'm flying way up high
(Show me love)
And I'll be your angel for life
Your angel for life