Melanie Brown's relationships are shown of this page.
Spice Girls
Edit
Emma Bunton
Edit
During the course of Spice Girls, it has been shown that Emma and Mel B became relatively close, especially through sharing the same taste in music - jungle.
Eddie Murphy
Edit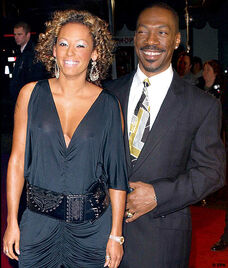 In 2003, Melanie Brown moved to Los Angeles, California with her daughter Phoenix stating that she planned to live there permanently. In 2006, Brown became the subject of many tabloid stories, on the basis of her relationship with Hollywood actor Eddie Murphy. Unconfirmed stories quickly came that the pair had tattoos of each other's names, were planning a wedding, and had introduced each other to their respective families. On October 16, 2006, AOL claimed that Brown was in fact having a baby by Murphy. Melanie B was quoted as saying:
"We're in love and get on really well. All the children have met and get on too - it's like a great big happy family. I can't wait to spend Christmas with him and I can't wait to have this baby."
In early December 2006, news came that Brown and Murphy were no longer a couple, resulting in a ensuing paternity test. Melanie B gave birth to Angel Iris Murphy, on April 3, 2007. On 22 June 2007, People magazine reported the results of a court-ordered DNA test, confirming through Brown's publicist that Murphy was indeed the father of Brown's baby. Murphy has since admitted paternity. Brown indicated her feelings about Murphy, stating:
"The less said about the Beverly Hills C—'k the better."
Brown has revealed in an interview that Murphy has not sought a relationship with Angel:
"He never bothers with his daughter. I mean, what kind of man is that?" - New! Magazine
Melanie B and her husband Stephen Belafonte attended a party hosted by Eddie Murphy. Eddie Murphy's ex-wife Nicole Mitchell had told both them to get along for the sake of their children. It was also revealed on Mel B: It's A Scary World that he had got his assistant to invite her to the premiere of Shrek Goes Fourth.
"Eddie's ex-wife Nicole helped them reconcile their issues. Angel is Eddie's youngest child, and Nicole wants her children to know her. That helped Eddie to come around and get past all the animosity he had towards Mel. "They've both said some really nasty things about each other to the press. So needless to say, some guests were shocked."
"Angel is Eddie's youngest child and Nicole wanted her children to know their half-sister. That helped Eddie to come around and get past all the animosity he had towards Mel." - Source telling New York Daily
Ad blocker interference detected!
Wikia is a free-to-use site that makes money from advertising. We have a modified experience for viewers using ad blockers

Wikia is not accessible if you've made further modifications. Remove the custom ad blocker rule(s) and the page will load as expected.