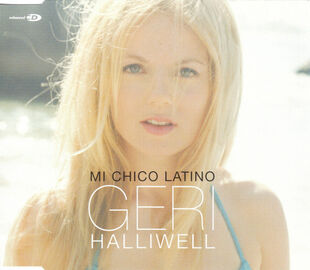 Mi Chico Latino (or "My Latin Boy" in English) is a song from Geri Halliwell's debut album "Schizophonic."
The song was written by Geri Halliwell & Absolute (who also produced the song). It was released as the second single from the album on August 16, 1999.
Song Background
Edit
"Mi Chico Latino" was created when Geri wanted to make a song with Spanish influences in order to pay homage for her Spanish mother. During a day in the studio, they came up with a melody, but didn't have any words.
Then, Geri called her mother for help. She recalled asking her, "Mum, what do you say to a bloke in Spanish if you fancy him and are being romantic?" When her mother didn't remember, Geri asked her to look at her library of Spanish-language romances & her mother read the titles out to her. Eventually, she came out with "¿Dónde está el hombre con fuego en la sangre?" (or "Where is the man with fire in his blood?" in English).
Geri liked the way it sounded and included the line at the beginning of the song.
After her previous single "Look at Me" peaked only at number two, Geri's record company wanted her to release "Lift Me Up" while the Absolute team wanted "Bag It Up", but Geri decided to release "Mi Chico Latino" after receiving good reception from children.
According to Geri:
"First and foremost I thought it was a good record. It was poppy and catchy and perfect for the summer. I think my core audience is young teenage girls and gay guys. Both of those groups tend to like pure pop music and I think that's what 'Chico' was. It was very different from the slightly leftfield style of 'Look at Me'. [...] The other thing that 'Chico' had going for it was that the music was Latin-based, I had written the song back in 1998 but by the time the summer of 1999 came around Latin-influenced music was ruling the charts. Ricky Martin had recently had a number one and there were others on the way. So it was a strange example of synchronicity that I should be ready to go with a Latin track which I had written almost a year before".
Song Composition
Edit
"Mi Chico Latino" is a Latin pop song which moves at a moderate tempo of 104 beats per minute.
At the beginning of the song, Geri chants the spoken word line, "¿Dónde está el hombre con fuego en la sangre?".
The lyrics to the song are centred on a lost love theme, with castanets in the background. During the song, Geri also sings in Italian on its chorus when everything else is Spanish.
Chart Performance
Edit
"Mi Chico Latino" debuted at number one on the UK Singles Chart on August 22, 1999, becoming Geri's first number-one solo single in the country. It also was the beginning of a sequence of four consecutive Geri Halliwell singles reaching number one in the United Kingdom.
It spent fifteen weeks in the charts, and went on to sell almost 380,000 copies in the UK and was certified Gold by the British Phonographic Industry (BPI). "Mi Chico Latino" experienced moderate success in other European markets.
In Austria, it entered the singles chart at #34, eventually peaking at number 27 and spending a total of eight weeks on the chart.
In France, the song peaked at number 40, remaining on the chart for ten weeks in total. On the Swiss Singles Chart (dated on September 19, 1999), it peaked at #26.
In Australia, "Mi Chico Latino" debuted at its peak of #43 on the issue dated September 5, 1999. The song also experienced success in the United States, peaking at #19 on Billboard's Hot Dance Club Songs chart.
Critical Reception
Edit
"Mi Chico Latino" received mixed reviews from music critics.
Jon Perks (whilst reviewing Schizophonic for "Sunday Mercury") gave the song a positive review, stating, "Okay, so it sounds like a hybrid of La Vida Loca and Madonna's La Isla Bonita, but with a swimming-costumed Geri on the cover and a summery tune, it's a winning combination".
Chris Charles from BBC News commented that "Mi Chico Latino" could be mistaken with "Spice Up Your Life", Geri's previous hit with the Spice Girls.
Russell Baillie from The New Zealand Herald said Geri spends time on the album "flashing her eyelashes at [menfolk], especially if they're foreign", calling the song "glutinous".
According to Rolling Stone, "Mi Chico Latino" was her "impeccably timed contribution to the Latin-pop phenom, complete with awkwardly pronounced Spanglish".
Jonathan O'Brien from Hot Press magazine was negative, stating that "Mi Chico Latino" was "a dreadful pastiche of Madonna's 'La Isla Bonita".
Controversy
Edit
In 1999, Israeli singer Alabina said "Mi Chico Latino" was a plagiarism from her song "Alabina (De La Noche A La Manana)" (which was released the year before).
A spokesman for Alabina's French record label, Atal said that they were "anxiously contacting" Geri's record label about the songs' similarities, but no legal actions were made.
Music Video
Edit
The music video for "Mi Chico Latino" was directed by Doug Nichol and filmed in Sardinia from July 5th to July 8, 1999.
Geri wanted the video for the song to be very different in style to her previous single "Look At Me" (as that one was filmed in Prague in the freezing cold) and she wanted something to connect with her fans.
According to Geri, the video was also pretty easy to get: "a yacht, a girl in a bikini and some sexy boy dancers to keep both sets of fans [gay guys and teenage girls] happy".
After the video was released, Geri got a huge amount of attention from it.
According to her:
"People came up to me and told me how great and how sexy it was. They also told me I looked really healthy, but how wrong they were. I wasn't healthy because I wasn't eating properly and although I was slim at the time, that was a mirage too because the tough regime of the diet was always going to lead me to binge and put the weight back on".
Later, Geri began going to recovery meetings for bulimia.
Donde esta el hombre con fuego en la sangre

I've got a secret
I cannot keep it
Its just a whisper of a distant memory
Just a dream or so it seems
Take me back to the place I'd rather be

You left a fire in my eyes
That lightens up the darkest skies
I'm giving up
I'm letting go
I'll find my way so

Take me back to my sweet lavida
Find my love
My dolce vita
Show me where I need to go
Donde esta
Mi chico latino

La la la la
Ay-y-y-ay
La la la

Stolen moments time has broken
My eyes are open to this life-long mistery
And so I'll go with what I know
Take my chances and run with destiny

Now there's fire in my eyes
I'll break away and say goodbye
I'm free to be
I'm letting go
I'll find my way so

Take me back to my sweet lavida
Find my love
My dolce vita
Show me where I need to go
Donde esta
Mi chico latino

La la la la
Ay-y-y-ay
La la la

Ay-y-y
Que sueno, dolce y pequeno
Yo no se yo no se
Pero no es un cuento
Mi corazon con tormento
Chico latino te quiero y simplemente deseo
Yo lo se el camino
Es un sueno latino

Take me back to my sweet lavida
Find my love
My dolce vita
Show me where I need to go
Donde esta
Mi chico latino

La la la la
Ay-y-y-ay
La la la

Take me back
Find my find my find my love
My dolce vita
Show me where I need to go
Donde esta
Mi chico latino