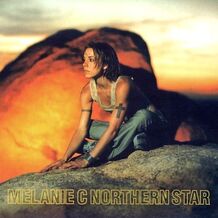 Northern Star is Melanie C.'s debut solo album.
The album was released on October 18, 1999 on Virgin Records and contains elements of rock music with pop & ambient electronic music, along with some R&B, doo-wop & new age music which contrasted with the sound of the Spice Girls.
It received mixed to positive reviews by critics and was critically & commercially successful, selling over 900,000 copies in the United Kingdom and close to 4 million copies worldwide which became the biggest-selling solo Spice Girl album.
Album Background & Recording
Edit
Melanie C's first solo effort was a duet with Bryan Adams which was released as a single on November 30, 1998.
The song "When You're Gone" (originally featured in Bryan Adams' album "On a Day Like Today) secured a top 3 place on the UK Singles Chart. The single spent 15 weeks in the UK Top 40, with nine of these in the Top 10.
Bryan Adams first met Melanie C in September of 1996 at London while she was performing "Say You'll Be There" with the Spice Girls at Top Of The Pops. They both liked each other and Bryan Adams always had in mind a possible collaboration with her.
They met again in a hotel in the summer of 1998 when Melanie C. was on tour with the Spice Girls and Bryan Adams was doing a video & he asked her to sing on his album. She hadn't even heard "When You're Gone" and she said she'd do it.
The success of the single gave Melanie C. aspirations for more solo projects. They went on to write three more songs for her upcoming debut solo album: "Follow Me", "Angel On My Shoulder" and "You Taught Me", the first two serving as b-sides to "Northern Star" and "Goin' Down" singles, while "You Taught Me" was released only as a promo to the media.
In early 1999, the Spice Girls took some time off, after extensively touring around the world.
Melanie B and Victoria Beckham announced they were both pregnant at the time, so every plan for the Spice Girls was put on hold.
In January of 1999, Melanie C decided to leave the UK and head to Los Angeles, California in order to work on her solo album, to be released in autumn of the same year.
Melanie C was planning to work with producer Rick Rubin whom she had met a year earlier when the Spice Girls were supposed to record a track with Blackstreet for the "South Park" album before legal wrangles intervened.
Rubin was to be at the helm for that track and when he heard of Melanie C's own songwriting ambitions, he offered a hand which she promptly grabbed.
Rick Rubin was also Red Hot Chilli Peppers' main producer, whose lead singer, Antony Kiedis was rumoured Melanie C. was dating at the time.
Melanie C wanted to do a indie rock album, naming Blur, Oasis, Suede and The Cardigans as her inspiration. She was also very fond of Madonna's work ("Ray of Light" in particular).
Melanie C. wanted to cut her first album with help from Madonna and she did succeed in having William Orbit (the producer of Madonna's album "Ray of Light") on the opening track "Go!" as a writer and producer while Marius de Vries, Craig Armstrong and Rick Nowels (who also worked with Madonna on "Ray of Light") also contributed tracks for her solo project.
Four months after Melanie left for LA, Virgin Records executives (who were quite worried about the way the media would feel about her solo album) sent to them an early promo cd, named "Northern Star: Work In Progress CD" to give them a premiere on how she would sound as a solo artist and where the sound of the whole project was going on.
The last tracks recorded for the album were "Go!", "I Turn To You" and "Feel The Sun" (all three not included on the early promo CD).
Tracklisting
Edit
Go!
Never Be The Same Again (feat. Lisa "Left Eye" Lopes)
Why
Suddenly Monday
Ga Ga
Be The One
Closer
Feel The Sun
Never Be The Same Again (Single Mix)
I Turn To You (Hex Hector Remix)
| Title | Single | Songwriter(s) | Producer(s) | Length |
| --- | --- | --- | --- | --- |
| "Angel on My Shoulder" | "Goin' Down" UK CD 1 | Melanie Chisholm, Phil Thornalley | Rick Rubin | 3:48 |
| "I Want You Back" | "Goin' Down" UK CD 2 | Chisholm, Thornalley | Rick Rubin | 3:18 |
| "Follow Me" | "Northern Star" UK CD 1 | Chisholm, Bryan Adams, Billy Steinberg | Marius De Vries | 4:47 |
| "Something's Gonna Happen" | "Northern Star" UK CD 2 | Chisholm, Marius de Vries, Steve Sidelnyk | Marius De Vries | 3:59 |
| "I Wonder What It Would Be Like" | "Never Be the Same Again" UK CD 1 | Chisholm, Rick Nowels, Billy Steinberg | Rick Rubin | 3:40 |
Leftover Tracks
Edit
"You Taught Me" (4:22): Planned as a B-side for the "I Turn To You" UK CD2 single, but was replaced with remixes.
"Happy Without You" (4:27): Planned as a B-side for the unreleased UK CD2 for the "If That Were Me" single. Mel C. performed the song live on her first two solo tours. The song was later re-recorded and renamed "Independence Day" for the film "Bend It Like Beckham." It also appears on the Japanese version of Melanie's second album "Reason".
Album Release & Promotion
Edit
"Northern Star" was released in UK and Europe on October 18, 1999 and later in the United States and Canada on November 2, 1999.
It reached #10 in the UK Albums Chart while it failed to chart in its first week of release in the US.
The album sold 6,717 copies in its first week, missing the bottom of the chart by a few hundred. It charted quite well in Canada, reaching #16.
To promote the album, Melanie C made a number of televised appearances and live performances of the album's songs. She embarked on her first solo tour "From Liverpool to Leicester Square" in the fall of 1999 and later the "Northern Star Tour" which began in Warsaw, Poland on August 31, 2000 and finished in Bonn, Germany on August 26, 2001.
Goin' Down (released: September 29, 1999)
Northern Star (released: November 29, 1999)
Never Be the Same Again (released: March 20, 2000)
I Turn to You (released: August 7, 2000)
If That Were Me (released: November 27, 2000)
Ad blocker interference detected!
Wikia is a free-to-use site that makes money from advertising. We have a modified experience for viewers using ad blockers

Wikia is not accessible if you've made further modifications. Remove the custom ad blocker rule(s) and the page will load as expected.