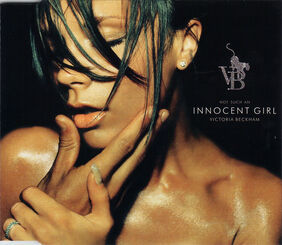 Not Such An Innocent Girl is the lead single by Victoria Beckham from her self-titled debut solo album. The song was written by Steve Kipner (who also produced the song) and Andrew Frampton.
The single was released on September 17, 2001.
Chart Performance
Edit
"Not Such An Innocent Girl" debuted at #6 on the U.K. Singles chart with sales of 35,000 units during its first week.
Altogether, it has sold about 80,263 copies.
Music Video
Edit
The music video for "Not Such An Innocent Girl" has a futuristic theme and features two Victorias: one dressed in all-white with blonde hair ("the good girl"), and the other in all-black with jet black hair ("the bad girl").
The video culminates into a "dance-off" and motorcycle race between the two Victorias.
The complex video was shot almost entirely on a green set with a great deal of post-production, making it one of the most complex solo Spice Girl videos to date.
Ad blocker interference detected!
Wikia is a free-to-use site that makes money from advertising. We have a modified experience for viewers using ad blockers

Wikia is not accessible if you've made further modifications. Remove the custom ad blocker rule(s) and the page will load as expected.