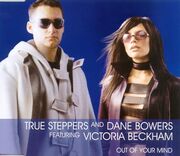 "Out of Your Mind" is a song by Truesteppers & Dane Bowers featuring Victoria Beckham. It was Victoria Beckham's first solo outing. This single was released on 14th August 2000. The single was tipped to be #1 after a military promotional campaign and a series of record signings. Although the single was midweek #1 until Saturday, Spiller Featuring Sophie Ellis-Bextor's "Groovejet (If This Ain't Love)" (midweek #2) outsold "Out Of Your Mind" by 20,000 copies by Sunday. It remains the solo-Spice single with biggest sales in its first week, selling 180,584 copies. The song sold 394,128 copies (Gold) in the UK, and was the 21st best seller of 2000.
Tracklisting and formats
Edit
These are the formats and track listings of major single releases of "Out of Your Mind".
"Out of Your Mind" [Radio Edit] - 3:27
"Out of Your Mind" [10 Below vs X-Men Vocal Mix] - 4:12
"Out of Your Mind" [10 Below Dub] - 4:25
"Out of Your Mind" [Radio Edit] - 3:27
"Out of Your Mind" [10 Below vs X-Men Vocal Mix] - 4:12