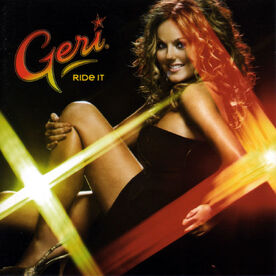 Ride It is the lead single from Geri Halliwell's third studio album "Passion."
It was written by Geri Halliwell, Quiz & Larossi and Savan Kotecha & produced by Andreas Romdhane, Ian Masterson & Josef Larossi.
The single was released on November 22, 2004.
Chart Performance
Edit
"Ride It" peaked at #4 on the U.K. Singles chart, selling 19,196 copies during its first week and 55,142 copies overall.
Music Video
Edit
The music video for "Ride It" was directed by Luca Tommassini.
In the video, Geri is shown dressed up as a policegirl and spanks a male model with a truncheon before flashing her bra. She also sticks the truncheon between the man's legs.
There is also a close-up of Geri lifting her pink dress and shaking her bottom.
TV executives were worried that the video would be too sexual for "Top of the Pops" Saturday viewers which was watched by 6 to 12 year olds.
The BBC then censored the video, saying: "TOTP Saturday will air Geri's video without a couple of unsuitable shots".
Music executive Simon Cowell also criticized the single's music video on ITV's "CD:UK" saying, "If I was her record label and that video arrived on my desk, I would throw it in the bin" and in response, Geri wrote to Cowell demanding an explanation for his outburst as well as an apology.