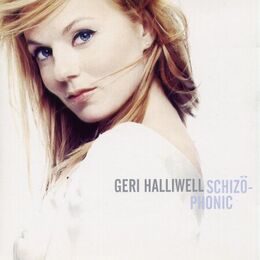 Schizophonic is Geri Halliwell's debut album that was released after leaving the Spice Girls.
The album title is a portmanteau of the Greek words schizo (meaning "split" or "divide") & phonic (meaning "sound") and is also seemingly a play on the word "schizophrenic" and the musical term "schizophonia".
"Schizophonic" peaked at #4 on the UK Albums chart and was certified 2× Platinum by the BPI. The album ended up selling around 2,300,000 copies worldwide and remains Geri's biggest selling album to date.
Album Background
Edit
On May 31, 1998, Geri Halliwell left the Spice Girls due to depression and differences between the group. Her former group mates eventually continued the Spiceworld Tour without her.
Then, Geri started developing her debut album, asking Andy Watkins and Paul Wilson (collectively known as Absolute who had already produced songs for the Spice Girls) for help.
However, the four remaining girls from the Spice Girls said that if they worked with Geri, they could not work with them again. Eventually, the duo decided to work with the singer.
Album Covers
Edit
"Schizophonic" was released with two different covers, representing an angel (white) and a devil (red); both covers are the same edition of the album.
On the first "O" on Schizophonic, there is an angel halo on the white cover and horns on the red cover and on the back cover, the song titles are written in both red & white, relating the theme of the song to one of the personalities.
The booklet of the album features both covers on all editions and the lyrics of the songs are included on the side that they are marked on the back cover.
Tracklisting
Edit
Look at Me (4:31)
Lift Me Up (3:52)
Walkaway (5:03)
Mi Chico Latino (3:16)
Goodnight Kiss (4:38)
Bag It Up (3:46)
Sometime (4:01)
Let Me Love You (3:45)
Someone's Watching Over Me (4:15)
You're in a Bubble (3:27)
Title
Single B-side
Producer(s)
Length
"G.A.Y."
"Mi Chico Latino" CD single
Absolute & Steve Fitzmaurice
3:22
"Summertime"
3:35
"Very Slowly"
"Lift Me Up" CD single
Phil Thornally
3:59
"Live and Let Die"
Steve Power
3:10
"These Boots Are Made for Walkin'"
"Bag It Up" CD single
3:03
"Perhaps, Perhaps, Perhaps"
2:21
Look at Me (released on May 10, 1999)
Mi Chico Latino (released on August 16, 1999)
Lift Me Up (released on November 1, 1999)
Bag It Up (released on March 13, 2000)
Album Personnel
Edit
Geri Halliwell – vocals
Absolute – all instruments
Milton McDonald – guitar
Phil Hudson – guitar (on track 2)
Paul "P-Dub" Walton – engineer