Spice Girls
Released
4 November 1996
Length
00:40:07
Producer(s)
Matt Rowe, Richard Stannard
Label(s)
Discography
Track listing
Background
Edit
Early Work
Edit
The group then called Touch felt insecure about the lack of agreement and were frustrated with the direction in which Management Heart was driving them. In October 1994, armed with a catalog of demos and dance routines, the group began touring management agencies. They began to meet with producers, musicians and other business executives, among them were the composer Tim Hawes, and writers Richard Stannard and Matt Rowe. Hawes worked with the group and noted the progress in their singing and writing skills. Together they composed a song called Sugar and Spice, which served as inspiration for the group's name change to Spice eventually the name was changed back to Spice Girls. Spice Girls.
On March 3, 1995, because of the group's frustration at their management's unwillingness to listen to their visions and ideas, they parted from Heart Management. The group stole the master recordings of their discography from the management offices in order to ensure they kept full control of their own work.
The album has recently been rereleased on Vinyl and on 4th November 2016 celebrated its 20th Anniversary.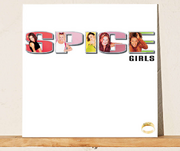 Personnel
Edit
Additional personnel
Edit
Absolute – multiple instruments
Jackie Drew – violin
Eric Gooden – background vocals
Judd Lander – harmonica
Greg Lester – guitar, rhythm guitar
Perry Montague-Mason – leader
Mary Pearce – background vocals
Matt Rowe – keyboard
Richard Stannard – keyboard, background vocals
Tony Ward – cello
Production
Edit
Producers – Absolute, Andy Bradfield, Matt Rowe, Richard Stannard
Engineers – Adrian Bushby, Al Stone, Jeremy Wheatley
Assistant engineers – Adam Brown, Patrick McGovern
Mixing – Absolute, Andy Bradfield, Mark "Spike" Stent, Al Stone, Dave Way
Programming – Pete Davis, Matt Rowe, Richard Stannard, Statik, Paul Waller, Dave Way
Arrangers – Craig Armstrong, Mark Beswick
Orchestra contractor – Isobel Griffiths