The Return of the Spice Girls



Assaociated Album:

Start Date:

December 2, 2007

End Date:

February 26, 2008

Legs:

2

Shows:

47
The Return of the Spice Girls is the third concert tour by British girl group the Spice Girls. This tour marked the group's first tour since Christmas In Spiceworld in 1999 and the first as the original five-piece since May 1998, during the Spiceworld Tour. The tour is estimated to have grossed over US$70 million and produced $107.2 million in ticket sales and merchandising. The tour won the 2008 Billboard Touring Award for Top Boxscore for a 17-night stand at London's The O2 Arena.
Backround
Edit
On 28 June 2007, the Spice Girls held a press conference at The O2 in London, formally announcing their intention to reunite as a group, a plan that had long been speculated by the media. During the press conference, the group laid out their plans to embark on a world concert tour that would be seen as a celebration of the group's history and to tour as a quintet for the last time. Initially eleven dates were announced and spanned North America, Europe, Asia, Oceania, Africa and South America and fans were informed that they had to pre-register for tickets on the group's website. On 30 September, the successful applicants for the Los Angeles, Las Vegas, Vancouver and London concerts were informed of how they could purchase their tickets, via email and text alerts, from valid ticket vendors. Demand was so high that many dates quickly sold out and three new dates in London were immediately announced after the first date at The O2 Arena sold out in only 38 seconds.
Controversy
Edit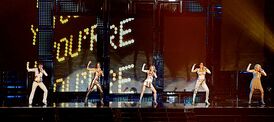 In late 2007 a fake email was posted by Perez Hilton on his site saying the Spice Girls had cancelled the Buenos Aires date, causing an official statement to be released saying that Buenos Aires and the other world tour dates were being finalized. Due to the expansion of the British and American legs of the tour, it was finally announced on 1 February 2008 that the end of the tour would take place in Toronto, on 26 February 2008, meaning the dates in South America, Asia, Australia, and Africa were cancelled. Many media outlets reported that it was due to Melanie Chisholm and Melanie Brown leaving the group, but this was denied in an official thespicegirls.com video message. The band suffered media backlash, and fan backlash, with many fans creating Facebook hate groups speculating the official announcement was "indirect" and that "the Spice Girls and their management knew the dates were cancelled even before they added 16 dates at the O2, deciding to announce it near the end of the tour to minimize controversy."
The lack of an official DVD released caused negativity. After many e-mails from fans to the management, it was officially announced that no official DVD had been recorded at all. Although each Spice Girl has a copy of the tour, Melanie Brown has confirmed on her site that the footage of the tour recorded was poor and they felt it was wrong to release a DVD for local distribution.
Concert synopsis
Edit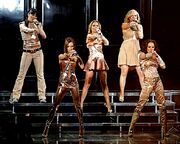 The show begins with a video introduction of five young girls playing inside a house when they find a magic box. When they open it fireworks appear, the five girls all wish to become pop stars when they grow up, then an instrumental of "spice Up Your Life" begins as various music videos and press headlines about the Spice Girls are shown, as the video ends the Spice Girls enter the stage on five platforms and perform "Spice Up Your Life" they then perform a mashup of their 1998 hit "Stop" and "It's Like That" by Jason Nevins and Run-DMC the track that famously made "Stop" their only UK single not to reach #1 at that time. After the girls introduce themselves at the end of the second song they perform "Say You'll Be There" remixed with "If You Need A Fix" by Blackstreet. Their reunion single "Headlines (Friendship Never Ends" is the last song in the first act.
The second act begins with a Jazz theme for "The Lady Is A Vamp" having a showgirl style performance. An up-tempo Jazz version of their 1997 Christmas Number One "Too Much" is performed inside a pink dressing booth. Before the song a pre-recording is played of the girls exchanging clothes. "2 Become 1" is performed next while the girls dance around pink and white poles.
The third act begins with a video of falling money and the titles Baby, Posh, Sporty, Scary and Ginger appear on the screen with their signature themes. Halliwell then enters the stage wearing a sequin Union Jack dress, while Bunton wears a small pink coat, and Chisholm appears wearing a sports track suit. Beckham then appears wearing a little black lace dress, while Brown wears her trademark leopard print catsuit, and the group perform "Who Do You Think You Are". The song symbolises the height of the Spice Girls in their heyday. Beckham is then left on stage giving a Catwalk / Runway dance to a remix of "Like a Virgin" by Madonna and "Supermodel (You Better Work)" by Ru Paul. Brown then performs solo, taking a male member of the audience and subsequently chains him to a ladder as she performs a cover of "Are You Gonna Go My Way" by Lenny Kravitz. Bunton gives a 1960s inspired performance of her 2004 hit "Maybe".
Following a cape dance interlude, "Viva Forever" is performed with a Latin theme and tango/fan dance break, the song ends with Halliwell exiting the stage early, acknowledging her leaving the band in 1998. "Holler" is then performed by the four remaining members, with a dominatrix theme similar to the video of the song. Halliwell then returns solo to perform her Number One single "It's Raining Men", followed by Chisholm who performs her biggest solo Number One single, "I Turn To You".
Brown, Chisholm, Bunton, and Beckham then perform "Let Love Lead The Way" dressed in white and silver. Halliwell returns from under the stage at the end of the song. The five girls come together holding hands and walk to the center stage, raising their hands to signify the reunion as a 5 piece and their bond. They then perform "Mama" with personal photographs of themselves with their Mother's and Children. This is then followed by the "Celebration Medley", a mash-up of "Celebration", "Shake Your Body (Down To The Ground)", That's The Way (I Like It)", and "We Are Family. The Girls then perform their 1998 Christmas Number One "Goodbye".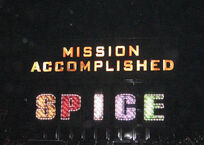 The Encore begins with a Humpty Dance interlude by the dancers as it segues into "If You Can't Dance" with the girls wearing a different coloured robe. The girls then take off their robes to reveal glittery outfits: Brown in gold, Halliwell in blue, Chisholm in orange, Beckham in green, and Bunton in pink. They then perform their biggest hit and debut single "Wannabe". Finally they perform a heavily remixed version of "Spice Up Your Life" – replacing the last line of the song with "Hi Si Ja – Goodnight!" The girls then disappear underneath the stage and the show ends with the slogan "SPICE – MISSION ACCOMPLISHED"
Are You Gonna Go My Way
Maybe
It's Raining Men
I Turn To You
"Celebration" (Disco Medley)
"Spice Up Your Life (Reprise)
Tour dates
Edit
List of concerts, showing date, city, country, and venue
Date
City
Country
Venue
North America
2 December 2007
Vancouver
Canada
General Motors Place
4 December 2007
San Jose
United States
HP Pavilion
5 December 2007
Los Angeles
Staples Center
7 December 2007
8 December 2007
Las Vegas, Nevada
Mandalay Bay Events Center
9 December 2007
11 December 2007
Europe
15 December 2007
London
England
The O2 Arena
16 December 2007
18 December 2007
20 December 2007
Cologne
Germany
Lanxess Arena
23 December 2007
Madrid
Spain
Telefonica Arena
2 January 2008
London
England
The O2 Arena
3 January 2008
4 January 2008
6 January 2008
8 January 2008
9 January 2008
11 January 2008
12 January 2008
13 January 2008
15 January 2008
16 January 2008
18 January 2008
20 January 2008
22 January 2008
23 January 2008
Manchester
Manchester Arena
24 January 2008
26 January 2008
North America
30 January 2008
Boston
United States
TD Garden
31 January 2008
Montreal
Canada
Bell Centre
3 February 2008
Toronto
Air Canada Centre
4 February 2008
6 February 2008
Uniondale, New York
United States
Nassau Veterans Memorial Coliseum
7 February 2008
10 February 2008
Newark, New Jersey
Prudential Center
11 February 2008
13 February 2008
East Rutherford, New Jersey
Izod Center
15 February 2008
Chicago
United Center
16 February 2008
Detroit
The Palace of Auburn Hills
18 February 2008
New York City
Madison Square Garden
19 February 2008
Philadelphia
Wells Fargo Center
21 February 2008
Washington, D.C.
Verizon Center
22 February 2008
Hartford
XL Center
24 February 2008
Montreal
Canada
Bell Centre
25 February 2008
Toronto
Air Canada Centre
26 February 2008
Ad blocker interference detected!
Wikia is a free-to-use site that makes money from advertising. We have a modified experience for viewers using ad blockers

Wikia is not accessible if you've made further modifications. Remove the custom ad blocker rule(s) and the page will load as expected.