Too Much
is a music video by the Spice Girls.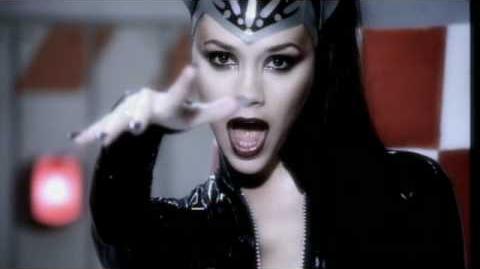 Music video
Edit
Melanie B is shown in an industrial, post-apocalyptic war scene; this segment is based on Mad Max. Baby is shown in a bedroom dressed in white pyjamas while objects float around her on their own; her scene is based on Poltergeist. Sporty is shown in a Chinatown, dressed in a red cheongsam and black pants with her hair in a long ponytail with red streaks; her scene is based upon Year of the Dragon. Ginger's scene is based on "Gilda" by Rita Hayworth. She is shown performing onstage in a long, white gown with a group of sailors dancing around her. This is the Spice Girls' only music video scene to feature black and white. Posh is shown in a missile silo, clad in a blackcatsuit and with a long ponytail; she is portraying Catwoman from Batman Returns.
The music video features each Spice Girl in their own individual scene. The track played is shortened in the end, omitting the repeat during the final chorus.
Development
Edit
The video was directed by Howard Greenhalgh, who also directed videos for Elton John and the Pet Shop Boys. Two versions of this video exist: there is the original, and a version that include scenes from their debut film Spice World (1998); the latter is on the DVD of their greatest hits album. The video was filmed in London on November 10, 1997.