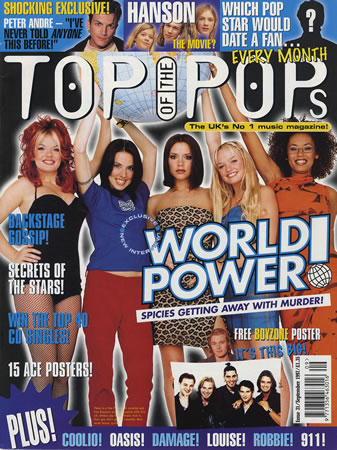 Top of the Pops magazine has been running since February 1995, and filled the void in the BBC magazine portfolio where Number One magazine used to be. It began much in the mould of Q magazine, then changed its editorial policy to directly compete with popular teen celebrity magazines such as Smash Hits and Big, with free sticker giveaways replacing Brett Anderson covers. Despite the programme being at its end, BBC still continues to publish the magazine until even now.
Spice Girls
Edit
An early feature on the Spice Girls coined the famous "Spice" nicknames for each member: Victoria Beckham (née Adams) who was nicknamed Posh Spice, Melanie Brown nicknamed Scary Spice, Emma Bunton who was Baby Spice, Melanie Chisholm , Sporty Spice, and Geri Halliwell Ginger Spice.
Editor Peter Loraine suggests the names during lunch with the girls in Notting Hill:
"I simply said it would be a good idea if they had some nicknames. The girls liked the idea, so I had an editorial meeting back at the office and about four of us started thinking of names. Posh was the first one to be thought up because Victoria looks pretty sophisticated. The rest were pretty easy really because the girls' characters were already really strong. The names jumped out at us. We laughed the most when we came up with Scary. Jennifer Cawthron, who was also from Leeds, came up with that one because Mel B was so loud and had tried to take over our whole photo shoot.
"We ran the names for a couple of issues and the first time the girls saw them they thought it was funny. Then the newspapers started picking up on the names and they cropped up everywhere until they were fully accepted by everyone."
Ad blocker interference detected!
Wikia is a free-to-use site that makes money from advertising. We have a modified experience for viewers using ad blockers

Wikia is not accessible if you've made further modifications. Remove the custom ad blocker rule(s) and the page will load as expected.